Music Was Here: Hamburg Booze Cruise
Hamburg Booze cruise…where, oh, where do we start?
The worst train ride I've had so far!
We wanna start with the journey that got us to Hamburg in the first place?
Off your response, I assume we do. Haha.
Our Swiss friend who was supposed to go had a sports injury. So we decided to visit him in his hometown of Lausanne instead, which was amazing. But then we had to find a way to Hamburg – and a few trains later, we found ourselves on an overnight intercity that was oversold and had no airco
Must have had that overnight intercity on reserve from the Cold War era
Remember the two hours it stood still in the blazing humid heat?
and the inexplicable, unexplained 2 hours in which the train didn't move a single fucking millimeter
Only for me to wake up a few hours later being frozen to the core.
Oh yeah, that I remember. brrrrrrrr
But it got us to Hamburg, the place we stayed was nice enough for us to early dump our bags, and then we met… MORE FRIENDS for lunchtime beers!
I think that beer set the vibe for the entire weekend, we went hard – even for us
I do love how the first place we went to for beers doesn't actually close on weekends.
Night-owls and alcoholics rejoice, you can now do both!
24/7 FRIYAY AND SATURYAY
Then back to hotel, checked in, dropped bags in room – and a few moments later, I managed to snag some tickets for the opening boat cruise through people who got stuck in traffic
Which meant RUSHINGGGGGGGGG
Sure did! Minor surprise we made our boat in time, if I recall.
but AHOY MATEYS we made said boat
BRUH THIS FUCKIN BOAT IS MOVING
As if anyone doubted us. We got there, Tired Radio was about the start playing, and even Anthony fist-bumped you with "I had no doubts!"
hahaha yep. Never any doubts with MDH being somewhere they/we say we're gonna be
WE ARE EVERYWHERE.
DRUNK ON TEH HIGH SEAS
Marcus, those weren't seas.
figure of speech
c'mon cut me some slack
Look, it's a lake, no wait, sea
NO WAIT ITS A GEYSER
Pretty much! You spent the entire vacation mislabeling animals, why not bodies of water
How much fun was that boat ride though?
Might as well be consistent
That boat ride was a blast. The bands were great, the beer flowed, and the hangs were immaculate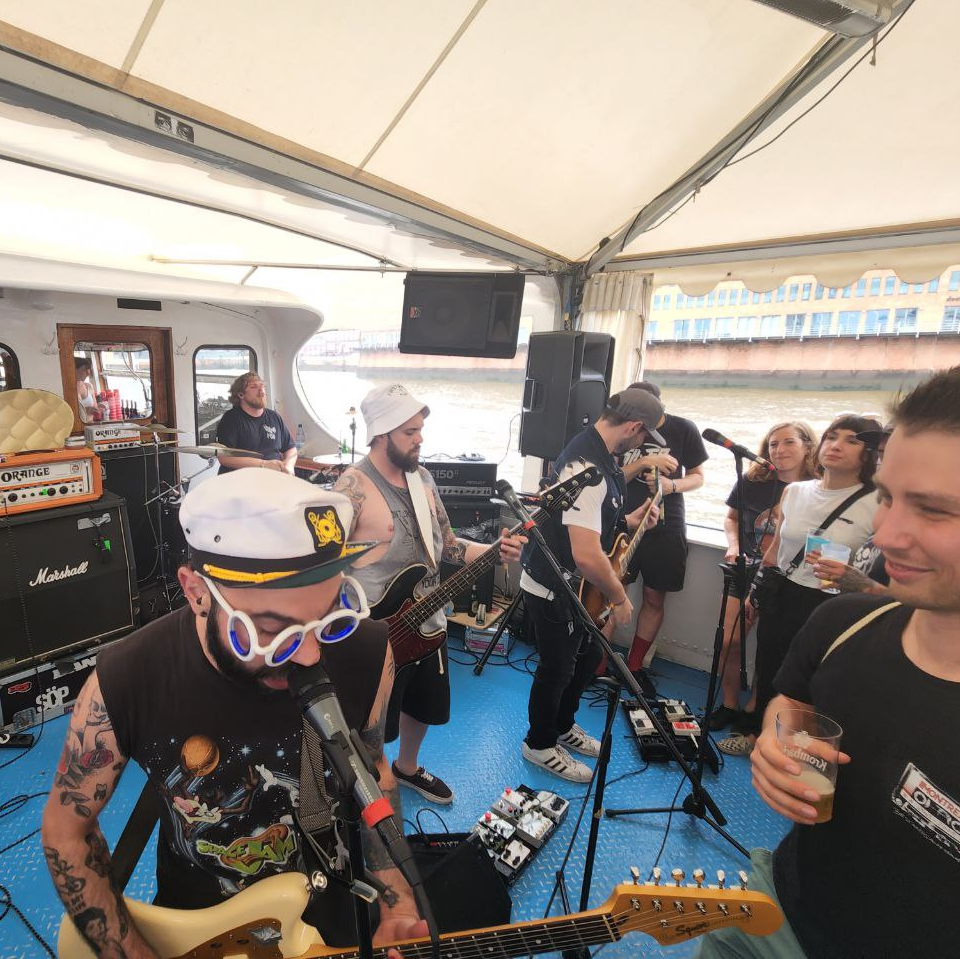 I wonder how much money I lost by forgetting about the coin return system for glasses. I have some from the boat and a whole bunch of Molotow pins.
Well, you're excused for having been in USA with me the last 4 years
A lot of favorite parts from that weekend, but the boat stands out specifically
I know, right?
Cause that was all we were sober enough for to remember clearly!
Man, Uberyou were sooooooooo good. Excited to see them again down the line…and hopefully knowing the words this go around.
Every so often I tell myself I'm finally going to learn their lyrics. Every time I fail at it. One day, Uberyou, one day.
But it was so much fun, the bands all seemed to have a lot of fun, and after, I wasn't sure if anything could beat it. Yeah, I was SO WRONG
In order, we saw Dollar for Deadbeats, Jeff Rowe, NOFNOG, Milloy, and the Offspring coverset by Chartreux. I wanted to see Custody, but we ran into people in front of the Nochtwache and got distracted.
The friend we had drinks with at noon told us we had to see Dollars for Deadbeats. She was 100% right. We did need to see that!
Gonna specifically point out how much fun Milloy's set was. As someone who got EXTREMELY wasted that weekend, I can tell what that looks like on others…like the singer of Milloy, for example
Dude, I felt SO YOUNG during the Milloy set. Rowald told me a few times I should go – because of course I am too young to missed them in their heyday and they never made my radar.
I am 30. I should not feel young
You and me both. I'm 36 and even I think median age of people watching them had to have been about 40
They played fest a few times in the early-mid 2010s, but I don't think I'd heard of em back then.
Oh, I'm sure they did. I'm sure that either I was not there or I missed them. Probably before my Fest times though.
Seconding that shoutout we got re: Dollars for Deadbeats. They were fantastic. One of the great things about festivals (especially abroad) is being able to see bands that we wouldn't otherwise see in the states.
Right? We wouldn't even consider them if our friend didn't let us know. Sidewalk Surfers was the other band around that slot I wanted to see
Also, NOFNOG were great too. I'd only heard their new album in passing ahead of the festival but they were on point with a ton of energy.
NOFNOG was amazing. They wouldn't be out of place on the average hardcore bill here in New York, and probably be a better fit than most NYHC bands around
Man, I wish the "average" hardcore band sounded like that
locally*
Also, huge shout to Jeff Rowe for playing an Islands Point of View. I love that song. I'm glad to have heard it live now. One day I need to figure out how to book shows in New York so I can get all those reluctant tri-state area people to play here, instead of further out.
I refuse to watch politics when on vacation. Learning of Roe vs Wade being overturned during a set in Germany was… interesting. America really has some backwards priorities
Yeah, that'd be cool. And he was a really nice dude too. Boston ain't that far
So NOFNOG played an hour earlier due to Primetime Failure meeting the big C. But my brain really doesn't remember how we missed Custody who played a whopping hour and a half later.
OH. Nope, I am reading the schedule wrong. Jeff Rowe took Primetime Failure their spot. Then NOFNOG played at their normal slot. 45 minutes makes sense, because I'm pretty sure we half got lost, ran into people heading the same direction, and then not really went into the venue
But opted for hanging around talking to people.
Failsafe strategy at a festival with all the friends!
I feel like this was us on a loop that weekend
Yes. So instead we stuck around for Chartreux doing an Offspring cover set. You were dying already, and I tried my best to let you know that I love you and you should have fun. Drunk me loves everything!
That was a really good coverset.
The part where I flew too close to the sun, yes.
(on repeat)
😅
And then we realized Gun Club was too crowded, so got much needed sleep. Well, after spending an hour figuring out how taxi's work. Which we failed at consistently the entire weekend, go us!
That much needed sleep left is in a great and well-rested and absolutely not hungover space for DAY TWO
Oh yeah, we did try Gun Club on Friday. I'd forgotten that. Also, by that point in the night I think we were thru with crowds
NOPE. NOT HUNGOVER AT ALL
We got hungover breakfast close to the hotel, because that 20 minute walk couldn't be done on an empty stomach. Then WE SAW BANDS AND FRIENDS AND BANDS AND FRIENDS
BANDS AND FRIENDS AND BANDS AND FRIENDS AND BANDS AND FRIENDS
Specifically, the pineapple party (no pineapple for us), that had Colletti and Jeff Rowe. We dipped out early and skipped Kirsty & Cory Call to see Captain Asshole their acoustic set, skipped Anna's Anchor to see Chartreux, then ran off again for 100 Kilo Herz – left early cause the space didn't have bathrooms. Then we discovered the grilled cheese place, ran into – and apologized to – Irish Handcuffs for missing their set this time around,
And then we split up. You went to see Nosebleeder, I went to see Hell's Ditch, who I missed in Bristol and kept promising I'd see. I keep my promises. After that, we met at Captain Asshole and continued towards March, and ended with the Sewer Rats and Jukebox Romantics
So let's talk bands!
Pretty cool getting to see Jeff Rowe on consecutive days and we got a shoutout too!
Well how often do you really run into New Yorkers on small German festivals who aren't playing in bands?
Literally zero unless it's well…us.
Or well, I guess I'm not really a New Yorker, but let's pretend. My legal documents say I am here.
That's the important thing!
I've known no other American cities, haha. From an islands point of view, we're doing just as good now as we ever did
Acoustic Captain Asshole was interesting; if only because the times we saw them were (of course) full band.
(including later that same night)
I managed to record one full song. The band managed to forget how to play specifically that one song.
By the way, that bacon jam grilled cheese I had was heavenly; and plus I was far enough removed from my hangover to be able to adequately enjoy it.
I want a grilled cheese.
We kind of hung for a little bit and ran into Kevin. Our neighborhood isn't that cool, so having three people from our zip in the same area in Germany must have been a first
Then we tried to catch 100 Kilo Hertz. But by the time we got there, your bladder decided it needed a break from shows. So we saw what, half a song. OOPS. Seriously, oops, because damn that band sounded like fun.
not everyday you see the south brooklyn delegation 3000 miles from their neighborhood
Yeah. L for my bladder. Was kinda surprised there wasn't a public restroom where we saw them…but then we'd only been in bars and not a gift shop
True. True. But it gave us some extra time to get that delicious, delicious grilled cheese
Sure did. And gave us more fuel for the rest of the evening.
TO SEE MORE BANDS.
and to split up. Hell's Ditch was a lot more fun than I expected. I should promise people to see their set more often, seems like it usually leads to pleasant surprises!
Every time I looked at that stage, I saw a new band member. They had what, six people on stage?
Yep, I went to see Nosebleeder (whom I decided to see just off of skimming the guidebook the day before I think).
What did they sound like to have so many members hahah
Haha, English punk-rock. Think Ducking Punches with a bit more punch. Burnt Tapes but a bit more of a mainstream sound
Ooh
::listening to them on Spotify now:
I dig it!
Needed my fix of gruff, Leatherface-adjacent punk rock
I know, you missed a fun set! How was Nosebleeder?
I really dug em a lot. Had some retro vibes. Found them pretty melodic tbh
Awesome! I got worried when Captain Asshole started and you still weren't there.
But you got lost to "Maaike, this city has no grid, how am I supposed to navigate"
Also, despite my attempts to give them 20 euro for them to buy a round for themselves as gratitude for them giving me an LP, they graciously declined. Ace dudes as well; which I feel is a familiar refrain.
Didn't seem like many people for there from them; whereas my making it a point to check them out
Those are the cool moments in life, where you have a bit too much fun, and people are a bit too nice
Yep. my hatchet navigation predictably led me astray at a really lousy time (also this was before we got european SIM cards so we leaned super heavily on WiFi).
It wasn't even that far away! Good thing you did make it!
Only missed 3ish songs, I think you told me
Still a bummer because I think those were the songs I likely best knew the words to.
You did. And then you had your common complaint. PLAY THE HITS
I swear I don't mean to be an asshole (no pun intended) with this. Just my 2 cents is that especially at a festival with limited time; just gotta hit all the bangers.
But don't forget, what one person thinks is a hit, the other might think of as boring
We don't know what their actual hits are, we know what we like!
True that. I assume the most played tracks on spotify arent necessarily indicative of anything. But yeah, main point is that I much enjoyed their set, and the iconic photo of me raising a beer while they played
You just like pictures of you, especially when you've got good hair days
Guilty as charged
We had singalongs and we had fun, Captain Asshole is just a very, very good live band
They know how to party.
They're fantastic. Hoping we see them before we make our way down to fest. That'd be a great time.
Yes, play New York. Worst case, I'll figure how to do shows.
When we recovered from the fun, we left immediately to see some Dutch representation
Yep!
You really dug March, didn't you?
I really, really, really did.
I think in terms of live performances we saw, I think March's set was best
Like holy shit
Ha, I know. I haven't seen them disappoint yet.
Yeah, definitely had swagger and precision for dayssssss
I miss that here, just more straight-up punk rock ala Bouncing Souls. Why can't bands go back to pretending to be the Bouncing Souls instead of pretending to be the Front Bottoms?
UGH I KNOW
I don't understand that fad.
And don't care to*
I guess after March, we ran off again.
Honestly, I blanked a bit between after when March finished to…maybe the tail end of Jukebox Romantics
Well, first we saw the Sewer Rats. They were a lot of fun. I keep missing them, so I'm glad I finally got around to seeing them.
You had a great picture of em during their set too
Well they are a great band. Great bands, great pictures. That's science.
They had a really solid crowd. Then again, the only other sets were coversets. I bet Custody and Shoreline both did really fun sets, but choices had to be made.
Smart choices, because I was in no state the next day to see the boat. More on that later.
After the poppy punk of the Sewer Rats, it was time for the Jukebox Romantics, who I always see when I'm furthest from home.
Yeah, I bet those were killer. As was the Tired Radio coverset (which I think was playing against March btw). Think I saw a pic or video from theirs and it looked like a fuckin wild time.
I love those dudes, but if I want to see Tired Radio do covers, I'll pay them some money to play our garage. Our neighbors would love that.
It's what our neighbors would deserve haha
True that.
How fun was Jukebox Romantics?
Or are your memories blinded by booze and time?
I think I got my fortieth wind during the second half of Jukebox
So I was kind of able to dig em
I always love that band so much, as people and as a band.
Seconding this. I've only ever had pleasant interactions with em…even on this night when I was shithoused
And after that, the night went downhill but our spirits rose fast when we realized Gun Club was too crowded, but the karaoke space next door was not
So we met with our Zurich friends, drank as if we were 22 as well
and did karaoke
How did you like your first night ever getting drunk on Desperado's?
Fun in the moment, but paid dearly for it next afternoon when we were trying to stir and get ourselves out of bed. oof ahahah
WE MADE IT BACK THOUGH
at 6am probably, but we did
The next day, we definitely felt it. We made it to Molotow, who closed the outdoor bars and had two bartenders for a huge line. Oof. They were rude as hell as well. I think we managed to catch 30 seconds of Cigar, but that space was in desperate need of airco or those huge fans
We missed everything before the show at Grunspan and decided to drink with friends, because why not.
Hm. Trying to think if Saturday night or sunday night was the 6am adventure. It's us so probably both nights.
both
both were
We left karaoke at 4:30
Yeah, Molotow was pretty rough next day. Idk what happened there, either a matter of them not having enough staff available for the day or them misreading how much traffic they were gonna get on what was the slow day for them re: booze cruise.
see, I dont think i even remember that
Not just drink with friends, but get the highest possible ABV cans of mixies at the german version of a bodega
Very important.
I am surprised we survived that weekend and not surprised we missed that entire afternoon. Most of our friends over 30 did, it wasn't just us.
I don't think we were even trying at that point. I think we leaned realllllllllll hard to being the trash pandas we are with going right into the heavy artillery
We did manage to make it to Grunspan to see Tired Radio. One of those bands we've seen like… 10 times in the past year.
But usually, it's us and their partners in the crowd. Oh, and the other bands. For this one night, they were rockstars. They had an entire audience, they had people singing along
It might still have been us up-front, but it had our friends – old and new – and a whole bunch of strangers
I think my mindset into Sunday was that I only enough left/only able to unhangover myself enough to see just one band; which was well…them.
NO RAGERTS
Man, I was soooooooooooo fucking happy for em getting the massive crowd they deserved. For those thirty or so minutes, it really felt like everything was in its right place with them.
That band did absolutely deserve the attention they got.
I hope they keep kicking at it here as well, someone is going to notice them eventually
Me too. I sincerely hope they keep grinding. I really think they're on to something huge. I hope they remember us on their ascent haha
Then Uberyou again, but I didn't have it in me to care too much. I watched from the back. Drank beers. Talked to friends.
You crashed on the couch
Wasn't their fault re: Uberyou. But personally, I think I was just spent. Like I was over the moon to see our local mates and go off accordingly. The weekend (and also, week of travel leading up to) definitely took its toll by then.
Me wearing my cap backwards is my version of a distress sign
I think Uberyou does better in smaller venues. They had SO MUCH energy on that boat and then… it was lost in translation on that stage
maybe they were spent as well though, it was day three for us all
I believe this. Didn't they play the last fest we went to?
And specifically for them, it was the end of a two week tour (as it was for their tourmates in Tired Radio)
Very true. They did play a Fest, might have been 18 (2019). Likely even. I got a shirt that Fest. Could have also been 2018
The Get Up Kids sounded great from a distance. I was pleasantly surprised. But I also was very distracted by new friends made. Shout out to Love Forty Down here!
Wanna say it was 2019. I think they closed out at Loosey's (this was also where I disappeared my run up shirt into the ether)
I think that's just where I was in general at that point. Also, seconding ya re: Love Forty Down. Always nice to be able to demystify and put names to faces in real life and off the internets.
Next time, let's meet the rest of that band somewhere!
So then it was 9pm, there were no more bands, we finally gotten comfortable with drinking on the street and it was time to get food
Sure! Would love to
We also had that misadventure with getting you a vape in between (and also more dranks on streets)
I don't want to go back to cigarettes, okay?
Oh hey, no judgment! I do like how I managed to initally get you the banana flavored vape and had to go back to the same store for a different flavored vape. I'm really not sure how i managed to be coherent at this point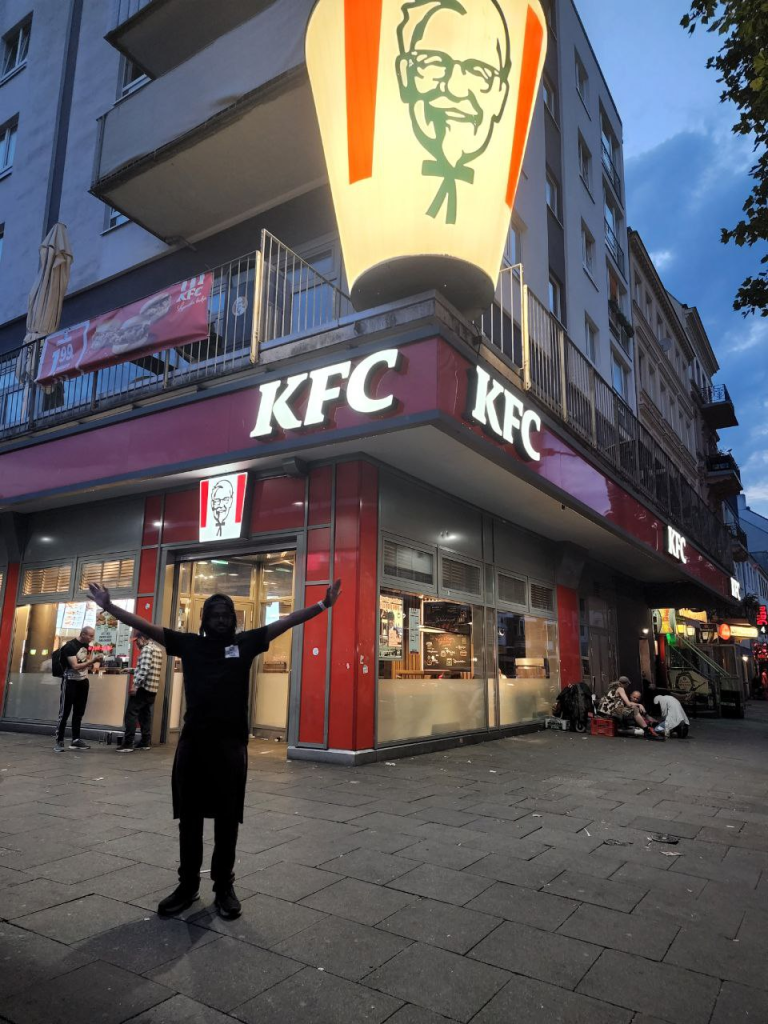 Also. An American walks into a bar called Gun Club, cap backwards, bucket of KFC in hand. It's a joke in itself, no punchline
We still managed to stick around Gun Club until 4am or something. Everyone was there.
I don't often get to hang with my friends from all over the world in the same spot
and it was sad to say goodbye
goodbyes, -10/10
A little slice of home: making it to last call
Gun Club: a pretty rad, cozy bar. Could see why it got crazy packed on Friday tho.
After years of shitposting, I..in fact…became the meme
Yep. Was great to see everyone in our sendoff to the Hamburg edition of Booze Cruise.
It was. We met with some friends for lunch the next day, and though we knew some of them only through the boozy cruises, they felt like lifelong friends
Sure did. Here's hoping we can reconvene again in the future.
Here's to old friends, new friends and singalongs