When is the last time we saw Goddamnit?
Hmmm. Fest. I wanna say 2018.
Wasn't there a Cobra Club show with Neckscars in 2019? Or was that 2018?
The years feel like a blur!
Perhaps we split between them and another show a week or two later?
That was it! Lone Wolf and Mikey Erg at Goldsounds, and Goddamnit, Neckscars and Crossed Keys at Cobra Club!
Aha!
So, it's been a while! They've got a new record out and are ready to tour up to New York again (tonight!!!!)
Woot! Tremendous bill, might I add.
I've not shut up about it since it was announced
I'm on an extended lunch break, you have the day off, so perfect timing to rush through this record. With a non-alcoholic beer, because of the time!
~ Totally Undone ~
Opening track vibes! Slow and nostalgic, wonder if this sets the vibe for the record.
Ah, the HWMish ballad to start!
Very much a being on the bus and watching lines and signs go by kinda song thus far
It is isn't it? I like the build up to the chorus.
Muggy day vibes too
Oh yeah, very much a leaving a place you had a good time song.
Yeah, I actually dug that part now that I think about it
Going back to a life you don't really feel like going to, thinking of that contrast.
…and then it just ends
We need to grow bigger so we can start a partnership with Athletic Brewing. I'm digging this N/A IPA
Hell yeah! I got me that golden lager. Tossup between that and the stout for me.
And if Jon Moxley (AEW wrestler) can do it, so can we!
We're way cooler than wrestlers.
Yesss
Our line of work is less laborious haha
~ Rejects on the Wall ~
Ah, there's that tempo!
Super wall of sound melodic riffs here. The slower drums really create a cool atmosphere to it.
Yea, that's the sound I've tended to associate with Goddamnit over the years
But yeah, really like this song!
Yep
I wish I had the lyrics cause I want to sing along to this song!
Gang vox part!
The arm in arm with strangers close to stage singalong part.
~ Lost in Tension ~
This could've been a Jukebox Romantics song.
Almost!
I never really realized how much Goddamnit and the Jukebox Romantics have in common musically, because I'm not very smart – even after having them seen play together.
Me neither, honestly. Wouldn't have drawn that connection.
It's a good song!
It really is. A lot of energy!
One that probably needs time to grow on you before it fully hits
Honestly, yeah. First time all the way through for me was different than a few listens later.
~ Rust Between the Years ~
I already feel this might be one of your favorites. I know you gave the record a listen before, is it?
Yep, decided to give it some run whilst gallivanting thru DC last weekend!
Is this your favorite? Am I right?
It's up there. I like the last track on here a bunch too.
It's got the catchiness, the grumpiness, the energy. It's super melodic as well, and has all the elements that make a Marcus song.
I think this was one of the singles that came out ahead of the new record as well
Oh, that would make sense!
Yea, this part was a banger
Oh the outro shouty repetition part.
💯
This is why I love this genre of music
It's made for making new friends in singalongs.
ME TOO
Untouchable imo
~ Marked Safe From the Hurricane ~
Oh man that's the title??
This one seems to drag a bit. Wonder if it's cause it's a first listen
It is a bit slower and ponderous
Maybe not slowed but more drawn out as you said
That is the title! Cause we all know Facebook is real life.
It is! As real as Twitter's demise.
ANYWAY
ANYWAY
Will need to listen to that song more
~ Hide the Bruises Away ~
If you'd go to the Flatliners show tonight, you'd be told to Count your Bruises. Goddamnit? Hide them.
Life advice
Ooh, I like this song.
This has the elements of what I love. It gets in your face. "Hey you cannot ignore this song" energy.
Oh yeah, definitely got that BIG song energy
Nice denialist anger vibes to it.
Definitely remember this song being a favorite
~ Pieces Left ~
Did the pieces leave or are the pieces left or is this a big political statement about how the left is in pieces?
Haha, nah…more of interpersonal stuff I'd wager a huge sum of money
On
You're ruining me trying to be funny here. I'll stop trying to be funny, that's your role anyway
Haha I should read that one better whoops. My bad 😅
"Holding on to the pieces left". Wonder if it's relationship or friendship based, I am not picking up enough of the words to figure that out.
But both are the same kind of torture. Friendships breaking hurts a lot as well.
This part of the song is rad. Definitely their sound shining thru
They are..idk if people always are hip to that but they oughta be though.
Yeah. Absolutely! They're really good at this big sound, slow drums, build up, melodic atmosphere thing
~ Undeserving ~
These guys should tour with Something Bitter and I'm basing that solely on this track.
YES
That'd be a fun one
I think something bitter are playing Philly on their January tour.
Straight banger
Okay so we just need to convince them to become friends. We can do that.
Easy enough
I know, I want to listen to this song again.
~ Learn the Line ~
But I won't cause we're on time restraints!
This almost has more garage rock vibes.
Definitely a windows down and car go fast vibes
I'm really enjoying this record a lot
I really love how this band treats the build-ups between different parts in the songs. They're great at using that to show the emotion of the part of the song.
Or American Thrills based off the track we just listened to
~ Not Quite Airtight ~
Man, another fun track it'd be cool to have known the words to
More of a growly than shouting sound to the vocals here in the first part.
Ooh
Then the chorus starts and they're back to it.
Gotcha!
Definitely basement song vibes
This is the kind of song you love at the show and listen to on repeat on the way home to try and capture the moment.
~ Oakford ~
This may be the longest intro on a song.
Last Song ™️
Closing track that does the closing track thing! Nostalgic "all sucks" feels. Is it gonna end with "super positive it'll be better"?
Definitely more somber than most of the record has been in terms of sound and dynamic so far
Less melodic and more somber, yes.
Oh look. It's the minimal music with catchy vocal line, turning into a singalong part.
ALL THIS TIME IS YOURS NOW
Big music. Big vocals.
Bigly
🤣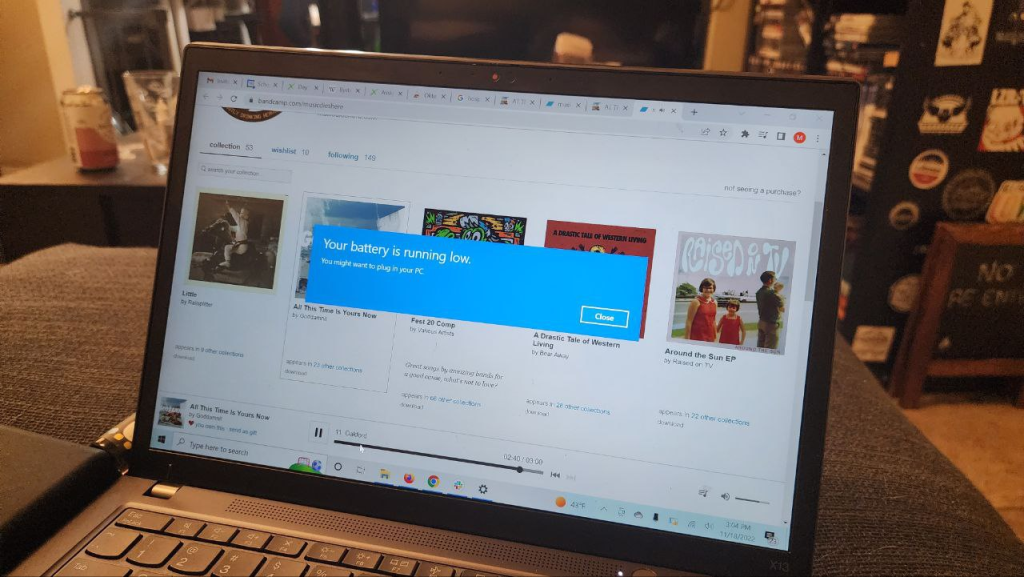 Buzzer beater haha
And that's it! Right in time
Last thoughts?
Fantastic record. Excited hear chunks of it live tonight
It's got a lot of sound and melody to it! It's hard to get that right in this genre while keeping it on the slower side, but they get away with it
---
Listen/buy here: https://selltheheartrecords.bandcamp.com/album/all-this-time-is-yours-now