Music Was Here: Iron Chic, Somerset Thrower, Bacchae, The Sad Tomorrows @ St Vitus (or wow we made it to a sold-out Vitus show after saying we wouldn't again over and over)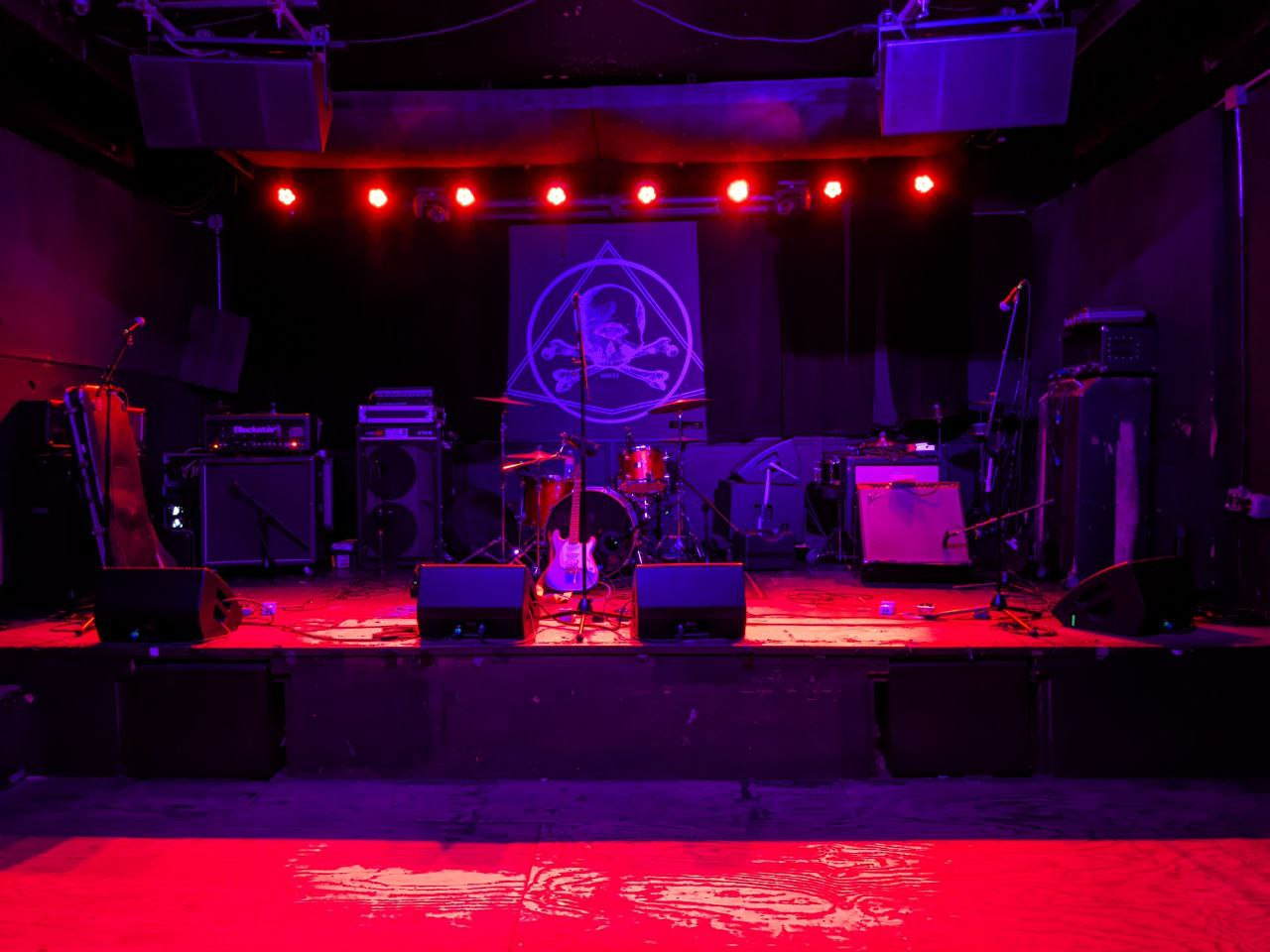 Hey, you at the venue yet? I was wondering if it was bands at 7 or show!
Doors 7
Walking to vitus
Here.
That looks empty
Yeahhhh, nothing's happened.
Assuming music around 8
…or not
Haha first band now?
Not sure. I do know it doesn't seem like many more than bands and their friends/partners here at the moment
Haha, I'll be there in 20 min at most. Just boarded my bus!
Bus train bus for today
Getting to vitus from work is the fun part of my journey. The trek back…hardly.
If the B43 is running it isn't the worst! I'm close!
So there's a Depeche Mode vs NIN night here on Friday and while my drunk twitch stream brain is intrigued, rational brain knows that ain't happening cuz 11pm start (and planning Saturday OT)
I was trying to avoid telling you about that, yes
Had a friend send me a post on IG about it.
Plus I knew already.
Then I saw you were already on interested on the Facebook event. I just hoped you'd forget, haha
Hahah
Not gonna lie, when I hear a friend mention someone barbacking at a show we're at/going to…the part I wanna hear is "tell em __ sent ya" and get free booze.
Anything but is noise, haha
~the sad tomorrows
So I'm 95% sure I brought earplugs and can't find them. One thing I forgot about Vitus is that their goal is to give tinnitus
I put the earplugs you had in its container last night, which I left on dining room table. You took them, I assume?
Dang, loud even with earplugs
Yeah. I'll check between bands.
So their drummer decided that socks are the new shoes
Heavy Husker Du and the Hold Steady vibes with this band
Really dig this so far
Also with these Jersey bands, there's always the front row of older skinny guys.
Definitely has 3am MTV video circa 93 vibes
Quota must be met haha
Basically the non-nü stuff I watch on YouTube at 3am to vibe with
Definitely later period husker du vibes. Great call…
Drummer has a SIQQ shirt
So I am concluding you want to move to NJ now?
Is New York not nü enough for you?
Same re*arded cost of living and dodgier public transit. Would be able to have clutch hangs with bestie(s) tho
Makes sense why they're so angry
Jerseyites*
Same for New Yorkers though
Also feeling some early Descendents influences here by the way. This is their first show they said?
Sure is
Wish I was important enough to have my first show be a slot like this. Pretty sure if I ever start that band, it'll be opening for the local opening act.
Heavy Lag, that is.
Yes it keeps us warm when the slumlord doesn't turn the heat on til presidents day
Hey, now that is a future career: slumlord. You should've gone to that real estate networking event at that bar close to your work
Dammit
This band is making me think about spinning records with friends and drinking 6 pack after 6 pack of beer and enjoying the simpler things in life
Yes but also, doing that during one of those summer night sunsets where the sky is that glowing red.
Outside
In here
~Bacchae~
Adorable how the band seems super nervous!
Based on the ten second soundcheck just now, I might walk outside in a bit – it doesn't seem like my style of music.
Okay this is definitely gonna be something a lot of people will love! Super interesting and almost new-ish (dare I say nü-ish?)
Also definitely something that just doesn't do it for me, at all. It happens! Taste differs.
Super energetic though!
Okay you know what. Take the show Daria. Imagine her starting a band. That's this sound.
Their sound is hardly a predisposition of mine but they seem fun.
Yeah, it's really good and I'm sure this is it's own niche. Maybe it's closer to hyperpop? Some of our friends would dig this sound for sure. I should let them know
For real though, I can feel how stoked they are and that's fuckin cool
Haha, right? It has a decent audience as well!
MDH found friends!
Six dollar tall boys make my wallet happy. Our wallet I suppose.
Somerset Thrower up next. Remember them being good. Didn't we see them here last time?
V A L I D A T I O N
~Somerset Thrower~
personally reallyyyyy psyched to see em
Yeah they're great! One of those bands that when I see them make me want to listen to them, but when I listen to them I miss their live energy
How does their singer look so much like "I am from Long Island and play in a punk band"
I don't even know. That's like some 516/631 chi
Uh… is that a baseball reference?
Nassau/Suffolk county area codes
Oh! I forgot about area codes for a second
See should have stayed home to focus on my studies, but killing brain cells with PBR is more fun
Isn't it always
Hey! Remember how I was wondering out loud earlier about why any band as a four or five piece always positions their singer right in front of the drummer?
These guys aren't doing that!
Also to the girl right behind us
It's a band, it's fun. You're not judging their performance. Lighten up!
ONE AT EVERY SHOW
I think life is easier when you lighten up a bit.
Relax your body.
Have fun.
for reallllllll
But if you're in a mood, it's fine! I don't actually care
Guy in HWM hoodie is a e s t h e t I c
(and wasted as fuck probably; was vibin hard for sad tomorrows too)
So go party with him
I know you wannaaaa
The homie is doing the PBR moonwalk
Ha you found your people
Dude the nostalgia in this song though
Gotta elaborate on this haha
Front left.
Sold out Vitus is the fucking worst venue
Deadazzz
Just push and be an asshole. Friends are here too!
Also I stick with every intro of each song sounds the same
Tryna drive towards ya
Gonna put up my arm! Follow the PBR
See it?
Lowered arm
Yeahhh…vitus gotta shave off like 25% crowd to make this less unbearable haha
Definitely Kingsland tho
If they play to shreds whilst you're away, I bear no responsibility for your bag
~iron chic~
I'm so surprised I made it to
1) The ATM
2) The Bar
3) Back to you
Within a few minutes
Iron Chic is cool and all, but it's a special skill how every track has the same intro
MDH happy ending: everyone finds their koozies in the iron chic mosh
Fuck, I had a killer IG of somerset thrower's last song but I was too excited to finish the story and jumped into the pit
So it's 2022 can we really tell people to "not be so fucking humorless"
FUCKING YES GODDAMN
Hey were are you anyway?
Front ish
To shreds m8
Okay shr3d th3m
I tried haha.
Man, dug into the lyrics of that track and fuuuuuuuu
Oh I see yaaaa
I don't know half these songs.
Where ya?
(Also yeah, that last iron chic record is a loss album…realised that when mentally dialing myself up for tonight)
Really every intro
The exact same.
Oh wait is this the music vid3o song?
Nah, that was like 9 songs ago.
(which I suppose proves your point)
I saw the clock and… it's been years and still is so surreal that I can see a band play at this time without panicking about my last train.
Then realized that it's not my tiny af hometown
Hahah where ya?
I'm nearish merch
Tryna space out from people
(not be in the way)
Outside
I'll meet ya
— One day pictures will be added —