Music Was Here: No Trigger, Heart & Lung, Neckscars @ Sovereign (or in excelsis fucking tonight)
LFG

While Neckscars soundchecks, I am imagining how many steps you're getting in
In bathroom breaks.
A lot, just you watch
This is gonna be such a short review for the reason of "too much fun and friends"
Damn Neckscars just doesn't disappoint. New drummer seems to dig playing for them, has a more dynamic playing style.
Yeah. Definitely an addition to their sound.
I'm even able to notice the subtleties in improvement with their new drummer. I dig it
Liking what you do makes a difference! Old drummer wasn't bad, but he looked so bored
Made it look too easy haha
Oh yeah. Definitely more vibing than posting tonight. The way it oughta be
Love the commute from stage to bar
Did I ever say I love my zoom on my phone?
This is the tiniest setlist
Just did haha
Hey
Are you
Finally gonna listen
When I say you should listen to this band?
Cause damn this is better live than on record.
Listened to them twice today haha. Shows you.
Those band interactions are adorable
I LEARNED HEART AND LUNG SONGS BY OSMOSIS
IT FUCKIN WORKS
Huh. Iron Chic vibes on this song.
Stronger harmonies tho
Is it possible to identify as a song lmao
Note: Marcus now identifies as Wasted. This is also not news.
Hey does the bass player have their state tattooed on their side?
Americans are so weird, haha
And yes. It is.
Okay
So
Was I wrong about this band?
NO
FINNA START SOME MVP CHANTS FOR CHRIS (SOUND DUDE)
Also, might bulletpoint this show as one of my faves all year
Hey we know thus song.
Which for No Trigger is rare for us haha
HAHA
They're great though, no wonder people like them so much
Seemed like super solid people as well
Yeahhh, they got a ton of power
I'm very worried about the direction this show is taking.
No Trigger is Captain America? The audience really really loves this band huh?
There are worse nominees for that mantle tho.
Like Pete Buttegieg.
Haha if we don't get the Rona after this show then truly NO COVID FORMED AGAINST US SHALL PROSPER
Look
NO COVID FORMED AGAINST US SHALL PROSPER.
You spent every day on the MTA
We go to all the shows.
If we were vuneralble to this variant, we'd have gotten it.
W
Note: We've got a ton of home tests and use them – we don't want to be why bands cancel tours
So much talent tonight
💯
I know punk and related to many sounds like easy noise. But this has really been a bunch of talented bands
Hahahah ska song incoming
OH FUCK
They read our review. Or we weren't alone.
HAHAHAHAHAHAH
Guess they read our review? They mentioned that a bunch of people said they sound like zebrahead lmfaooooo
Also man, could you tag me out.
Gotta whizzzzz fuuuuu
I'm right here dude. Tag you out how?
Ohh I meant do socials while I pee
NVM I see you
I stand by my words on Zebrahead.
Time to put down for a Hollywood hills gated enclave. We did it!!
Speaking of references, feeling very Bukowski drunk at what…1030pm on a Friday night?
Poor form
Tonight you're getting Bukowski drunk?
I just ride the wild haze idk
I do love that no trigger is a 6 person band btw
Plus crowd.
This band has the crowd as an additional member.
Nearly the same level of coordination as rude girl revue
Next up a sax and their full move to a ska band.
[ Photo ]
Sure they're not a seven member band?
No Trigger, now stealing band members from their supports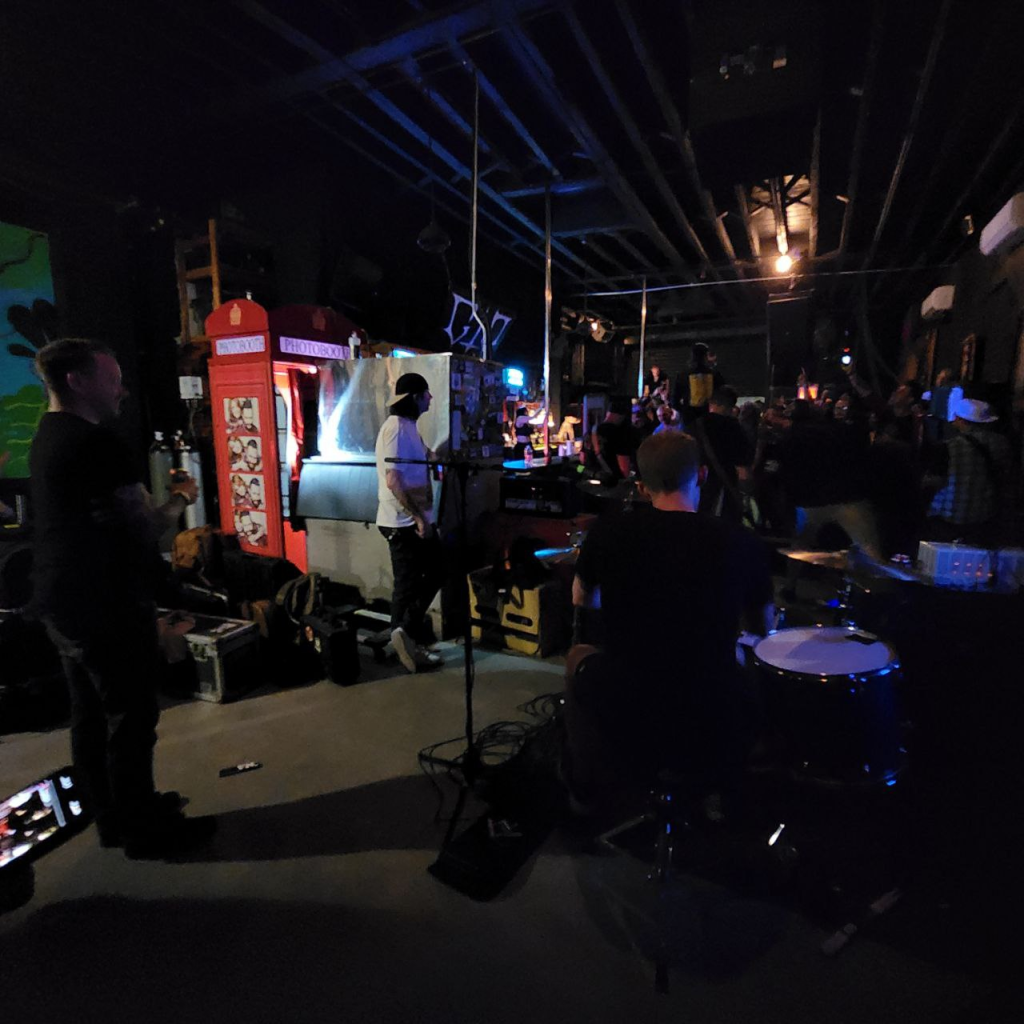 Necktrigger
Swag4days
In excelsis fucking tonight.
W
Note: THIS MUCH FUN AND THIS MUCH TALENT IN ONE NIGHT SHOULD BE ILLEGAL. Thanks for putting up with us. Will (Neckscars) & Anthony (Tired Radio) were the real MVP's of the night for coordinating – and hooking everyone up with – the afterparty pizza.